A shopper's ideal place – Daegu
There are various shopping malls around EXCO for exhibitions and conventions. Those who love to shop cannot afford to miss out on this part of the experience of Daegu. Various shopping malls, streets and shops offer the latest brands and design trends with its high-end street for luxurious collections including goods, cloths, antiques, and even herbal medicine.
Department Stores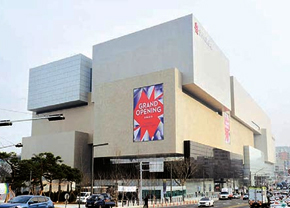 Daegu Shinsegae Department store
Address 149 Dongbu-ro, Sincheon 4(sa)-dong, Dong-gu, Daegu
Opening Hours 11:00-20:00
Located in the Dong-daegu Transportation Hub, Shinsegae is the biggest department store in the city. With floor space covering 40 soccer fields, Shinsegae is a whole day's outing. Attractions include Daegu's first aquarium, Zooraji an outdoor theme park, a trampoline park, and Luang Street Food Court, which is modeled after the streets of Shanghai from the 1930s.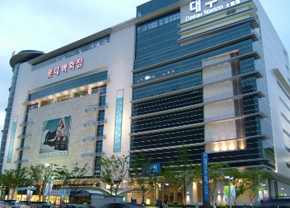 Lotte Department Store Daegu
Address161, Taepyeong-ro, Buk-gu, Daegu
Opening Hours10:30-20:00
Lotte Department Store Daegu is connected to a railway station and a subway station. It offers more than 700 well known domestic and international brands and has a Cinema. There is also a Tourist Information Center in the railway station that is connected to the 3rd floor of the store and the traditional market, Bunke market, is nearby.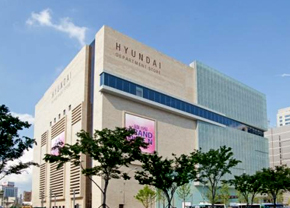 Daegu Hyundai Department Store
Address2077 Dalgubeol-daero, Seongnae2(i)-dong, Jung-gu, Daegu
Opening Hours10:30-20:30
Located right above the main subway transportation hub, Banwoldang, Hyundai Department Store contains high-end boutiques and an upscale grocer that has luxury imported foods. Inside EXCO, you'll find gourmet restaurants, coffee shops, the Kyobo Book Centre, and the CGV movie theater on the basement floor. The store keeps on attracting popular F&Bs and hosts a wide array of interesting cultural activities for its customers.
Outlets

NC Outlet

Address22, Yutongdanji-ro 14-gil, Buk-gu, Daegu
Opening Hours10:30-21:00, 10:30~21:30(Friday, Saturday)

NC Outlet is a premium outlet located 5 minutes' walk from EXCO. It has over 200 professional brands, cosmetics, accessories, sporting goods and many other shopping items. There are discounts depending on the season, so foreigners who visit international events often visit and choose gifts.

Lotte Outlets

Address16 Palgong-ro 49-gil, Bongmu-dong, Dong-gu, Daegu
Opening Hours11:00-20:00 Open year round

Located on the way to Palgongsan Natural Park, the outlet is a family-friendly shopping mall. The shopping mall offers clothing, shoes and accessories from popular brands, and a wide array of cultural and exciting events including a cinema, kids theme park and photo zones.

Hyundai City Outlet

Address454 Dongdaeguro, Dong-gu, Daegu
Opening Hours11:00-21:00 Open year round

Hyundai City Outlet is conveniently located in the city, close to Dongdaegu Station. It offers great shopping experiences with over 200 brands at reasonable prices and hosts a variety of cultural events for families.

Other shopping centers